Carmen Marzocco
Meet Our Chefs
Carmen Marzocco
CORPORATE CHEF I CULINARY DEVELOPMENT
Chef Carmen Marzocco is a lifelong Philadelphian with a long family heritage of Italian cooking. His passion for food and culinary excellence from his young age pushed him to complete culinary school at The Restaurant School in Philadelphia. Carmen also had a passion for business and received a degree from The University of Pennsylvania in Business Management.
After completing Culinary School, Carmen has spent most of his career in corporate dining and for the past 20 years as a Regional and Corporate Chef. During this time, he has grown over the years into managing large portfolios of business in North America, Canada and the United Kingdom where he was able to refine his operational, culinary, and strategic experience.
Carmen joined Elior NA as our Corporate Chef of Culinary Development, leading Culinary Operation Development. Carmen has an integral role in building and implementing our culinary standards, operational resources, and strategic innovations across the business. He works closely with our operations teams, dietitians, and unit managers to drive growth and culinary innovation across the business.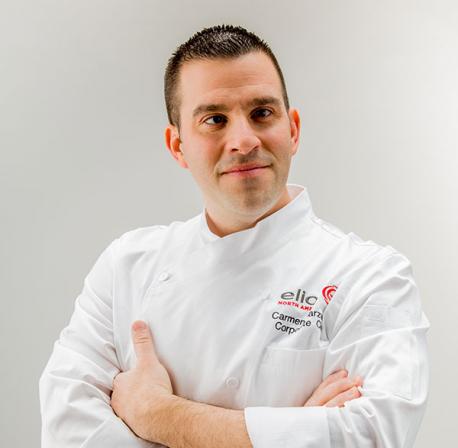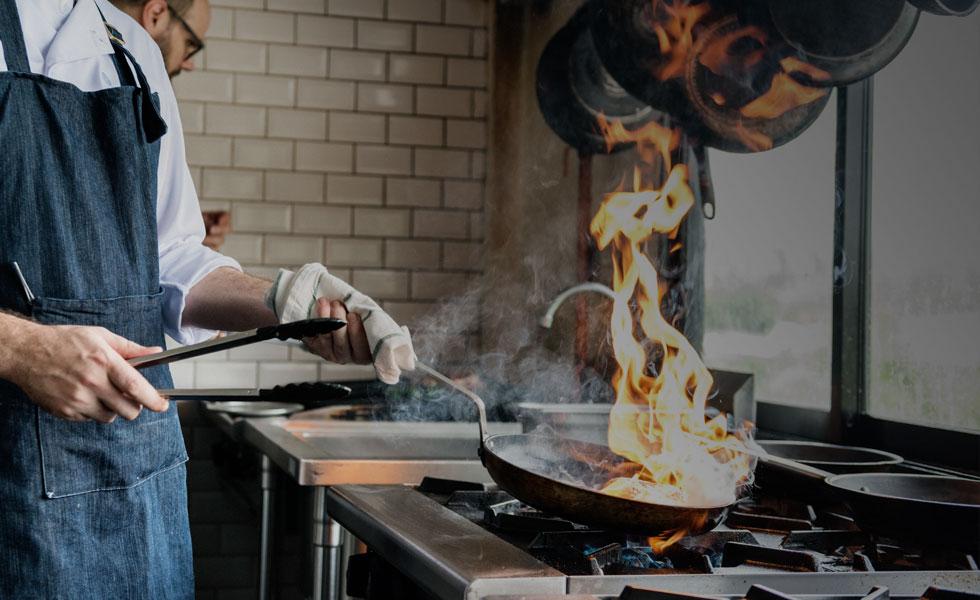 Chef Spotlight
Get to know our Corporate Chef Carmen Marzocco
Tell us a little bit about your role and what your day to day looks like?
I'm excited to be the newest addition to the Culinary Team with Elior North America. In my role as Corporate Chef of Culinary Development, I am dedicated to redefining the culture of culinary operations, functional processes, and operation excellence for our organization.  Working closely with research and development and wellness departments to ensure our initiatives are in alignment and focus on the growth and progression of the organization and our people. 
Given recent changes in the industry…where do you see the business going, and what innovations do you find to be prevalent for the future? 
This year was very hard on our industry and we had to quickly reevaluate and pivot how we operated our business, so our customers and guests feel safe when dining with us. I believe customers should always expect a variety of great food when dining with us and this should never change given any circumstance. When there are great challenges, great things emerge and begin to flourish, paving the way for more innovative opportunities to keep guests engaged. App-based and kiosk ordering, robotics, and flexible dining solutions are just a few. Though we are still feeling the effects of these unique times, we will come out of this stronger, better, and ready for the next curveball. The food service and hospitality industries are one of most resilient out there.  
Tell us about your background, where it all started, where you've been, and what keeps you motivated every day
I grow up in a small town outside of Philadelphia with a family who loved to cook. I had early aspirations of becoming a chef as I had a love for food from young age. As most, I spent countless days in my grandmother's kitchen learning, tasting, watching, and getting the occasional wooden spoon for misbehaving as her sous chef. Nonetheless, my grandparents and parents gave me the encouragement and motivation to continue my passion for cooking. During high school, I attend a vocational school for cooking and was interning at a local country club and private inn. It was nothing sexy, just earning my chops in the business, washing dishes, prepping the lines, and learning along the way. I attended culinary school at The Philadelphia Restaurant School and minored in business at The University of Pennsylvania. From there, I cooked at many premier restaurants in Philadelphia and the on Main Line which ultimately lead me to my career in corporate dining where I spent 17 years as a Regional and Corporate Chef. Throughout these 17 years, I was able to refine my operational, culinary, and strategic experience. Now at Elior North America I continue my passion for developing the business with new innovative solutions and standards.  
Tell us your favorite monumental ingredient combination!?
I'm a traditionalist so pretty simple, Grilled Cheese and Tomato Soup.  Its a timeless pairing that has ingredients which lend to its velvety consistency, while the combination of cheese, sourdough bread and perfect seasoning turn it into a classic of world recognition.  
3 ingredients that are must- haves in your kitchen?
Cold Pressed EVOO, Sea Salt and Wine
What was the one defining moment in the kitchen that you knew you were meant to be a chef?
If you ask anyone, where were you on 9/11? They would most likely be able to recall, what they were doing, where they were and have a story to tell. I was just in the beginning stages of my journey in becoming a chef. It was my second day of college and I was about to be thrown into the deep end of the pool of life. On September 12th, I was asked if I would be willing to support the efforts of tragedy that just darkened the nation the day before. I reluctantly said absolutely and the next thing I knew I was in a van on my way to NYC. After a 2-hour drive, we pulled into Jersey City, NJ, checked into an FBI and FEMA tent and was on a ferry, on my way to the site of what used to be the twin towers. What was only a 5-minute ride, seemed surreal, stuck in time, looking ahead of me not being able to comprehend what I was looking at.  Fires burning out of control, blinding smoke, a smell I will never forget and red and blue lights as far as the eyes could see. I unloaded and began my work on a small boat called The Spirt of New York parked right off the east side of the towers. Cooking relentlessly, tirelessly, and unaware of time, we prepared meals for the fire fighters, police, volunteers, and government officials who were working onsite as well. Every free moment I had, I sat down with these men and women, listened, and never spoke, but understood my place in the puzzle.  It wasn't until two days later it occurred to me what we were unknowing doing. Through the power of food, we were uniting, healing and creating encouragement while supplying hot meals and listening to the stories of heroes. It was on the ride home that I knew I was meant to be a chef. Cooking is sense of community and can be used to tell a story no matter the circumstance.
What's your advice to a young chef in the industry, or newcomer to the organization? 
Learn to fail. We have all come up in your shoes, the days are long, the hours are arduous, but the reward is worth it. Becoming a Chef is not being able to cook directly out of a book or reciting every ingredient on earth. It's not even close, it is learning that growth comes from failure and failure when approached the right way will bring you growth. The most recognizable chefs in the world can cook amazingly but they have become who they are because they have failed before their time to rise. Learn from your failures, never stop failing and always keep growing! 
Your last meal…who's the chef? Who's at the table with you, and what's the meal? 
Family is so important in my life and has been the fabric of who I am made of. As a young child I was raised to enjoy the time spent with my family and cherish the moments and memories made while 'breaking bread" at the table. That being said, I would have my family at the table for my last meal, laughing, sharing memories, and making new ones. Who would be the chef??? It would be me!  Cooking family dinner for me is about the enjoyment of everyone gathered together, having fun while I cook in the kitchen, sharing a drink .