Paul Basciano
Meet Our Chefs
Paul Basciano
VICE PRESIDENT OF CULINARY DEVELOPMENT
Chef Paul Basciano stems from a long line of butchers and restauranteurs who instilled in him a passion for food and excellence. He was born and raised in New York City, where his first introduction to the craft began at the early age of 12 when he would sweep floors at the neighborhood deli.
After attaining a degree in Strategic Sales and Marketing from New York's Baruch School of Business, Paul opened three food-related businesses in New York: a catering and events business, a retail outlet and a full-service restaurant. He also enrolled in the prestigious French Culinary Institute to hone his craft and formalize his culinary education.
After an 11-year run as a business owner and stints at NYC's L' Ecole, Abigail Kirsch Culinary Productions, famed restauranteur Chef Peter Kelly's group Xaviars on the Hudson, and Restaurant X, he took his entrepreneurial spirit, business experience and passion for food to the corporate world.
Paul began his corporate career as Executive Chef at the University of North Carolina, Chapel Hill, and went on to oversee fifty universities across three states with Aramark. Before joining Elior North America, he spent nearly 10 years at Compass Group overseeing some of the world's largest corporate and retail executive dining venues.
In his role as Vice President of Culinary Development at Elior North America, Paul leads culinary innovation and concept development for the company, as well as culinary talent development. He channels his passion for people and food to enable our companies' culinary teams to make great food that makes their clients and customers happy.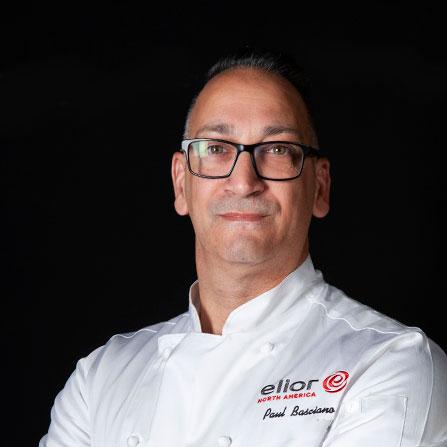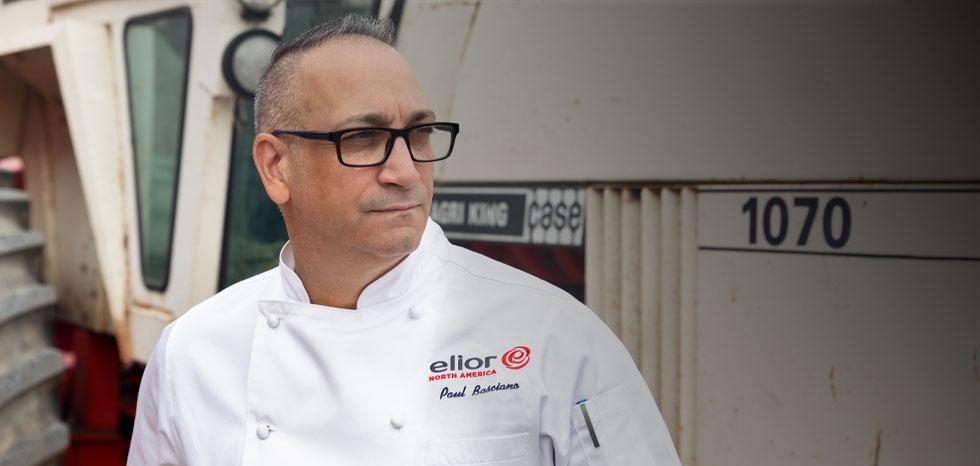 Chef Spotlight
Get to know our Vice President of Culinary Development Chef Paul Basciano
Tell us about your overall culinary vision and strategy for Elior North America? 
For me it's all about two simple non-negotiables; people and food-in that order! I was always more a team sport person opposed to individual accomplishments, it's probably why I was (and still am) so intrigued by the kitchen life. There is something so exciting to me about position players, all with a specific set of skills and functions, executing as one for a common goal! As leaders, it is our job to seek passionate people, provide them the tools for success, be present to encourage and guide them, then get out of their way! As far as food, I think it's important we stay relevant and innovative, while never losing sight of our customer's needs. Developing programs with a careful balance of scalable food solutions and ingredient-driven foundational technique is the focus, along with fostering a food first culture…. accomplish the people part and see how easy the food part comes!
Given recent changes in the industry…where do you see the business going, and what innovations do you find to be prevalent for the future?
2020 has been a heck of a year, one that nobody could have ever expected, but I have to say, I think it has allowed us to be better, to think differently, to find a way…I can't begin to tell you how proud I am for the resolve our team has shown…it really is quite amazing. I know we have become a world of technology, and I do see the tech piece becoming more and more prevalent, more so from a customer experience perspective than an automation one….I can see the order, touchless, speed of service and execution part, but will never see the chef being replaced by a robot. The human side to what we do is so important…you can't replace passion- there's that word again!
Tell us about your background, where it all started, where you've been, and what keeps you motivated every day? 
It's quite cliché - My family is from Naples, Italy, upon coming to the U.S., there were two things they knew-baking bread and butchering, and so mostly everyone in the family had some attachment to one of those trades. My Dad was a butcher before becoming a NYC firefighter, so in the genes I guess to be around the business sweeping floors, helping out, etc. I actually attended and graduated Business school before attending culinary school, all the while paying my way through, working in the food industry. Fast forward to a few stints in the NYC restaurant scene, a twelve year entrepreneurial run , then to one of the three pivotal moments in my career- a trip to Chapel Hill NC, where I slid a resume under the HR department door at UNC, resulting in a phone call from a fellow New Yorker who was impressed enough to offer me an entry level position that I accepted. I started as a chef manager and worked my way up to Regional Chef in four years-determination was never one of my short-comings! From there, ten years at a competitor in the B&I space, starting as a Regional Chef and ending as Corporate Chef before coming over to Elior two and a half years ago. I would be remiss in not stating that the second pivotal moment in my career was working with I'm sure a familiar name to all- Abigail Kirsch. At the time absolutely no affiliation to ENA, but man was I super impressed and proud to be a part of that team. I was just blown away at what they were doing and couldn't get enough, for me, it wasn't a job, it was an education! I guess I can go on and on, but what keeps me motivated…pretty simple, It is my responsibility to provide the same opportunities I have received, along with the experiences that I have learned, to this team in order to grow this company and make it better than when I arrived. 
Tell us your most memorable food experience?
Dan Barber's Blue Hill at Stone Barns - How a restaurant can become one of the top fifty in the world by serving mostly vegetables, all grown hyper locally…let's just say you don't know what a carrot tastes like until its pulled from the ground 50 feet away from the kitchen it is prepared in. End of story!
Three ingredients that are must- haves in your kitchen?
(salt) bacon (fat) eggs (acid) wine (heat) Calabrian chilis. That's four - ok, either I cheated, or the bacon can count as both salt and fat!
What was the one defining moment in the kitchen that you knew you were meant to be a chef?
I guess this is where I speak about my third pivotal career moment- During my entrepreneurial phase, I knew I was missing a big-ticket piece to my future career goals- to be mentored by a big-name chef. At the time, in NY, one of those guys was Peter Kelly. After dining at Xaviar's on the Hudson one evening, I emailed the restaurant explaining that I was a culinary school grad seeking mentorship and requested to meet with Chef Kelly-he obliged and think he was beyond surprised to find an established 30 year old seeking mentorship! I then explained that I would work for free in exchange for the opportunity to learn- I made the rounds at a couple of his restaurants which brings me to that defining moment…one day a week I pulled morning prep duty. The kitchen was so quiet, so empty except for a couple of us…and I couldn't wait for that day to come each week all because of the aroma of the veal demi that we would prepare in a 60-gallon kettle. That demi was like a perfume throughout the building in my eyes. Because the kitchen was so tranquil, you picked up everything…the herbs, the wine, the roasted bones, you can even detect the amount of time it had been simmering by its depth- I'll never forget that aroma- I guess you're hooked when that's what you look forward to each week!
What's your advice to a young chef in the industry, or newcomer to the organization?
1. Don't' wait for opportunities to come, seek them out.
2. Live your life as a student of food and food culture.
3. never lose sight that you can ALWAYS learn something from the person standing next to you.
Your last meal…who's the chef? Who's at the table with you, and what's the meal?
This is an easy one as I think about it often…I, along with many of my present and past cherished kitchen comrades are the chefs, the meal is the biggest global mash up of my fondest memories of what I consider their best dishes, and then we eat standing up in the hot, noisy kitchen just like the old days!