Stacy Wiroll
Meet Our Chefs
Stacy Wiroll
CORPORATE CHEF I CULINARY DEVELOPMENT
Stacy joined Elior North America in July 2018 as our Corporate Chef leading Culinary Development. Stacy has played an integral role in building and implementing proprietary culinary concepts, supporting our sustainable ingredient sourcing and managing our quarterly roadshows. She works closely with our operations teams, dietitians and unit managers to drive culinary innovation across the business.
Stacy joined Elior after leading research and development efforts for Aramark's Innovation Center. She was instrumental in developing the company's Quarterly Menu Release in addition to leading the menu strategy and recipe development for Limited Time Offers and proprietary culinary concepts. She has a degree in Culinary Arts from Le Cordon Bleu and has received the Pro Chef II and III Certification from the Culinary Institute of America.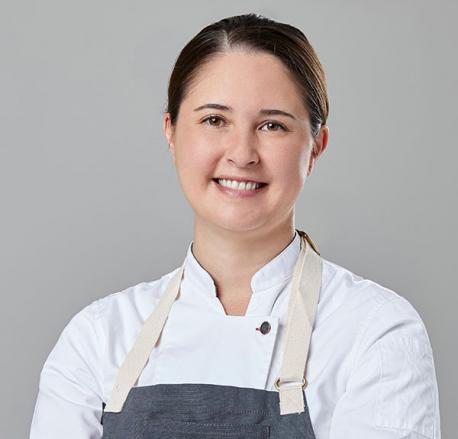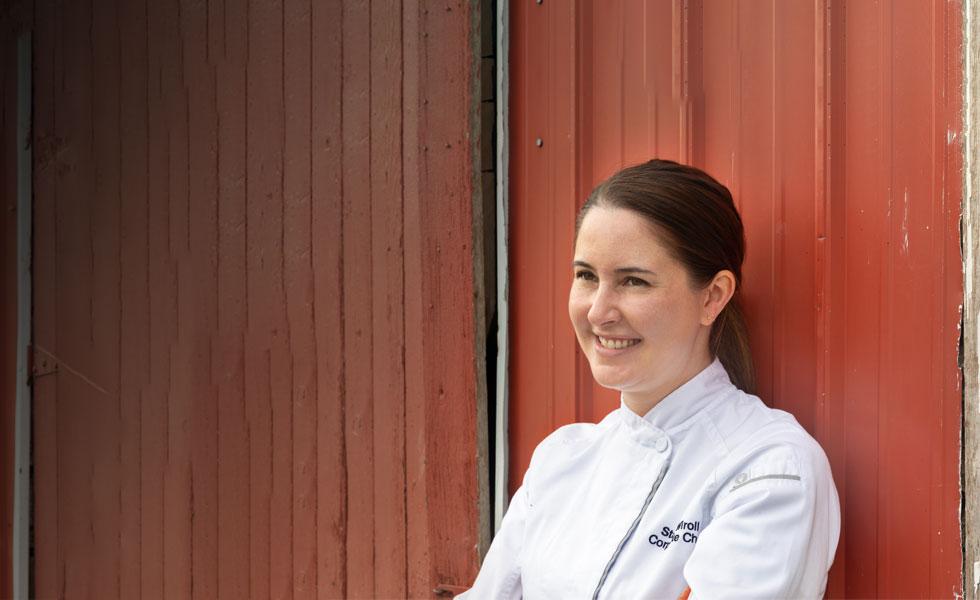 Chef Spotlight
Get to know our Corporate Chef Stacy Wiroll
Tell us a little bit about your role and what your day to day looks like?
In my role, I have been first and foremost tasked with developing scalable concept and programmatic solutions across Elior North America. Working cross-functionally, I bring these to market as turnkey as possible.  Alongside our procurement team I also leverage the expertise of our manufacturer and distribution partners with the intent to turn a relationship into something that more resembles a partnership. Organizing product cuttings, speaking with manufacturer's about new and innovative products, managing pilot programs, or assisting with SKU optimizations, and selecting "best" compliant and culinary approved ingredients are all examples of that happens – A lot of moving parts, but I wouldn't change it – I love the challenge! I am also afforded the opportunity to work directly with our operations teams during new concept and program roll-outs and which provides keen insight into what works and alternatively, simply put, what doesn't. Elior North America is a big place, and I value those relationships I can make when our paths cross. Even if they haven't, I would hope that anyone would be comfortable to reach out directly to me with questions, feedback, or ideas!           
Given recent changes in the industry…where do you see the business going, and what innovations do you find to be prevalent for the future? 
Before sharing my predictions I'd first like to bring attention to the food service industry as a whole. While there has been profound loss, I think of the comradery, perseverance and just plain craftiness that has emerged over the course of the past (almost) year. I giggle to myself thinking it's like the rigged Robot Coup with the meat skewer jammed in it in just the right place to make it run, times a million. Chef, FOH Manger, Bar Tender, Server, etc. food service professionals are survivors period and I am proud to call them my tribe. 
Now the more straightforward answer for macro trends heading into this new year – Innovation has never been more important then now.  Foods that can deliver on Health and Immunity messaging will be huge, technology will continue to influence in new ways both execute food BOH (robots in the kitchen) and the way a customer orders, smart vending is the term I most recently heard. While comfort food will continue to be something people gravitate towards, the challenge will be identifying what "comfort" means and how to best appeal or incorporate these items into your menus with interest, and the impact of food choice on climate will push companies to be more transparent and look closely on how they currently source their goods. CSR is no longer a "nice to have" and is an expectation…I absolutely love staying on top of trends and could go on, but I will end with one final thought.
Presented at a virtual conference I "attended", and perhaps you have already heard this. History has a way of repeating itself…After the 1918 world-wide flu pandemic – you know what followed, the roaring 20's! It made me smile, so thought I'd share.
Tell us about your background, where it all started, where you've been, and what keeps you motivated every day
I grew up in the Mid-west in southeastern Wisconsin. It's something that I find myself saying often, because it's something that I'm proud of. Although I did not grow up on a farm, I grew up with many friends that did, and with that deep respect for the folks that work hard behind the scenes to help bring the food to our table. Early on, I remember having a fondness for food. Watching cooking shows on PBS with my Dad was commonplace. I didn't consider it a serious career choice until after my second year of college, when I decided to attend culinary school. After graduating, I took advantage of the opportunity to dive into the field through living in different parts of the country and cooking in varying kitchens. Highlights of this experience would include a historic inn on the ocean in Prouts Neck, Maine, Fine Dining atop a mountain in Keystone, Colorado, cooking wild game in Harrold, South Dakota at a hunting lodge, providing comfort food and conversation with residents of a senior living community in Prairie du Sac, Wisconsin, and working my way up to residential executive chef at the University of Minnesota.  Taking advantage of an opportunity that came up during my time with my former employer, I spent over three years in a research and development role on their corporate team in Philadelphia, where I now currently live. It's in this role, and the one I find myself in now at Elior North America where I feel I have found purpose and passion. It's the challenge to bring solutions and innovation to our operators that keeps me going and pushes me every day.           
Tell us your favorite monumental ingredient combination!?
Monumental…Champagne and oysters on the half shell 
One more - most unexpected flavor combination that I cannot get out of my mind was this Banana Miso Maple Kakigori (Japanese shaved ice) that I ate a couple of years ago in Soho
3 ingredients that are must- haves in your kitchen?
Pretty straightforward, Diamond Crystal kosher salt, butter, and apple cider vinegar
What was the one defining moment in the kitchen that you knew you were meant to be a chef?
Okay, so maybe not a specific moment in time that I can recall, but you know after high school when we are all trying to figure out what we want to be when we "grow up", I struggled. I went to college and did okay, but still was found wanting. After my second year, I took a leap and told my mom that I was considering going to culinary school, and although somewhat hesitant, she supported me with the decision and next thing I knew I was sitting in "Cooking 101", or whatever it was called, and loved it and did very well.  From the people I met to the discipline needed to succeed, I had a sense of belonging and a desire to learn more. I felt that I was finally on the right path, or at least going in the right direction.
What's your advice to a young chef in the industry, or newcomer to the organization? 
I cannot articulate the advice any better then the Chefs that have listed prior.  So much great advice, but the ones that resonate with me the most would be humility goes a long way and a somewhat atypical characteristic of…dare I say…chefs.  EAT, as noted by Chef David A., stay in tune and keep your craft relevant by exposing yourself to as many different styles of eating as possible from a pre-fixe fine dining dinner to the latest LTO offering or newly improved chicken sandwich at a nearby fast food joint – I want to eat and experience it all. Lastly, once in conversation about an opportunity presented to me and myself questioning my ability to succeed, mostly fueled by self-doubt, a good friend and former colleague said to me "never say 'no' to an opportunity" … sometimes you need to be and should be your own best advocate. Less said, believe in yourself!
Your last meal…who's the chef? Who's at the table with you, and what's the meal? 
It would have to be my family. Since living apart from them for most of my adult life, it's important to cherish the time I can spend with them. To add to the general merriment of the room, and thinking a bit outside the box here, go figure, but I would love the ability snap my fingers and have the food or dish that each person has on their mind appear on the table before them. For me, going along with the spirit of the question and this fabricated reality, it would be the goofy cake from my great-grandma Wiroll (I wonder if it's as good as I remember it), the shrimp andouille gumbo from my grandma Longmeier, she grew up in Louisiana, and although a great cook, a bento-box filled with items of my grandma Wiroll's choosing, she moved from Japan to the United States after marrying my grandpa.  Eating out at whichever Japanese restaurant was dubbed the best at that moment was always something that they enjoyed sharing with us growing up.