We Do More Than Deliver Meals. We Make A Difference in Seniors Lives
For more than 50 years, our TRIO Community Meals team has supported communities and seniors across the country with nutritious meals. Our teams make a difference in people's lives with a friendly face, a warm smile and a compassionate heart. We support the unique mission of each senior and community nutrition program by working with you to customize programs that optimize menu development, meal production and logistics.
By working together, we help our seniors maintain their independence and enhance lives of people in communities across the country.
That's because we provide more than a meal. Our customized programs provide opportunities for socialization and enhance the overall well-being of our communities to help them thrive.
Our Clients Can Expect
A culinary partner that takes the time to listen to their needs and mission 
Custom solutions that serve seniors plus provide cost savings 
Menus developed for each client by registered dietitians to reflect regional preferences 
Meals that are higher in quality, variety, nutrition and flavor at a lower cost 
A culinary management company that operates the time-consuming tasks of managing a meal program 
More time to focus on operating your agency 
Procurement efficiencies for cost savings and higher quality meals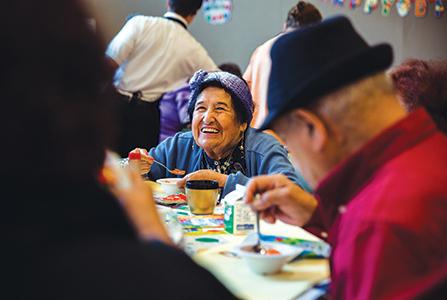 Programs and Services
Customized Community Meals programs that include the option of hot, chilled or frozen meals 
Efficient routing and delivery of congregate and home-delivered meals 
Specialty diet menus
Monthly Nutrition Education 
Allergen Guide
Holiday and Special Events menu
BeWell Kitchen, a live learning workshop that connects food to health
GPS delivery tracking
Meals on Wheels America
As a part of its ongoing commitment to improving the lives of seniors across the nation, Elior North America has partnered with Meals on Wheels America to bring nutritious meals to seniors.
 
Our teams support nutrition programs that are focused on helping local communities thrive. We offer a wide variety of meal program solutions to best serve your area's seniors and head start programs. A partnership with us enables you to focus on other aspects of your mission, while we manage the day-to-day operations for your meal program. Our experiences and efficiencies allow us to deliver a more cost-effective solution.