Healthcare & Senior Living
We Create Food Experiences That Enhance Care
Healthcare is so much more than medication or treatments. It's about comfort, support and providing the best possible experience. At Elior North America we know that a meal is a big part of that because creating better experiences is what we do every day. As a leader in culinary management we believe that, in healthcare facilities and senior living communities, a meal can be part of something much bigger. It's about ensuring patient and resident satisfaction by fueling the healing process, improving quality of life, and bridging the gap between what patients and residents want to eat, and what they need to get better.
And we accomplish it all in the way we know best – by following an authentic recipe. For us, it's culinary innovation, exemplary service and strong local teams supported by global resources. That means we employ expert chefs to create dishes that give patients and residents the delicious flavors they want and nutrition they need all prepared with a commitment to consistency and quality. It means we work collaboratively with healthcare providers to bring ideas to life and personalize each program to deliver exactly what an organization wants, the way they want it. Providing not only excellent dining, but comfort and nourishment that promote healing and contribute to satisfaction – at a time it's all needed most. Because at Elior, we recognize that in a way, a good meal can be the best medicine.
Our Clients Can Expect
A culinary management partner who works with you to achieve optimal patient/resident/guest outcomes
A program that aligns with the goals and culture of your organization
Quality, fresh, made-from scratch meals that are naturally healthier and support therapeutic diet approaches
Local and sustainable food to the goals of your location
A broad menu of meal choices to offer compelling variety
Innovative meal programs to care for the body, mind and spirit
Ongoing staff training, development and retention initiatives
Multimedia marketing support to create an engaging and inviting culinary experience
A team of registered dietitians who work seamlessly with your nutrition teams in managing meal and diet restrictions
Foodservice operators who place a high priority on survey readiness and best in class survey results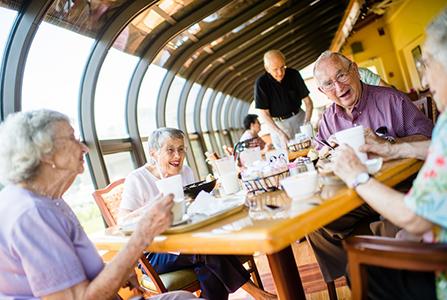 Programs and Services
ACUTE CARE
Patient-Centered Meal Models
Retail Dining
Customer Satisfaction Program
Wellness Support
SENIOR LIVING
Custom Menus
Personalized Dining Services
Special Events
Wellness Programs & Support
Whether serving senior living communities, small rural hospitals or large urban medical centers, Cura supports the healthcare industry with exceptional dining services while ensuring compliance with all required accreditation, licensure and surveys. Our solutions are developed around well-balanced nutrition, a fiscally-responsible approach and an understanding of the unique challenges of the healthcare industry.