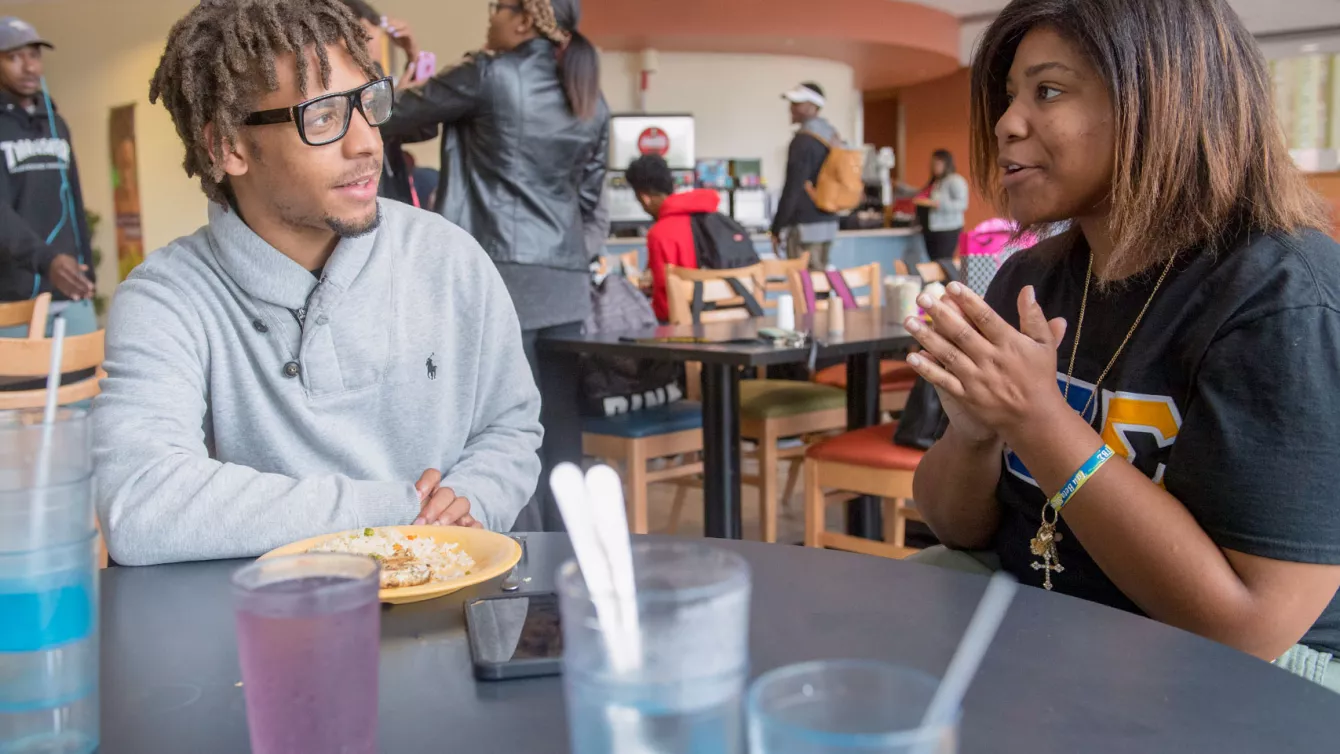 Bowie State University Selects Aladdin as New Dining Services Partner
Aladdin's first Maryland partnership underscores its continued commitment to HBCUs
CHARLOTTE, N.C. (June 25, 2019) – Aladdin, a member of the Elior North America family of culinary management companies, announced Friday that it has been selected as the new dining services partner of Bowie State University – Maryland's oldest historically black university. The five-year agreement was approved last week by the University System Maryland Board of Regents.
The higher education partnership is Aladdin's first in the state of Maryland. The company plans to make Bowie State an Elior North America Center of Excellence supporting the university's goal to develop one of the best dining programs in the mid-Atlantic region.
"We are thrilled to be partnering with a university like Bowie State that recognizes the significant role a dining services partner plays – socially, emotionally and physically – in the lives of students," said Elior Director of Business Development Trenna Grice. "Aladdin is committed to working alongside the university to provide students with the most holistic college experience possible."
As part of the partnership, Aladdin plans to:
Perform renovations to dining and community areas to increase student interaction. Renovations are set to be completed during the second year of the partnership without impacting student dining rates.
Add mobile ordering technology and kiosk ordering to retail space throughout the campus community.
Create a culinary innovation station and implement exhibition-style cooking so students can see how their meals are prepared. Executive chefs also will compete in cooking competitions across the region to increase the university's culinary recognition. All menus will be customized to reflect Bowie State University's campus brand.
Develop a branded food truck to be used by Bowie State and increase BSU's brand within the surrounding community. This truck will be used for recruitment, concessions, special events and to engage with other area businesses.
"Bowie State University is proud to welcome Aladdin as a dining services partner to provide an integrated culinary program that encourages student engagement and learning, as well as promotes the university's brand throughout the region," said Anthony Savia, Bowie State's vice president of administration and finance. "Aladdin brings what the university was seeking in a dining services partner – one that is responsive to the needs of our campus community and that will help us provide a quality experience to all who live, study and work at Bowie State."
Savia said the new dining program will provide greater flexibility in meal plan options and catering services, expanded dining hall hours as well as new late-night dining options. Aladdin's commitment to customization will enable the university to meet changing student needs over time. The agreement with Bowie State builds upon Aladdin's strong relationship with historically black colleges and universities (HBCUs), across the country. And, in keeping with its core commitment to supporting diversity, Aladdin says it plans to exceed the required engagement of 25 percent minority business enterprises on Bowie State's campus through procurement, catering and daily events. "We are going to deliver upon all the promises we've made to ensure this dining program reflects the unique experience of the Bowie State campus community," said Grice.
About Aladdin
Aladdin has more than 40 years of experience, and as part of the Elior North America family of brands, the company focuses on building strong client partnerships while leveraging the resources of our global organization. Our teams understand that enhancing the educational experience is more important than ever and we work to develop a comprehensive culinary management program to meet each client's needs. Our programs focus on ways to engage and inspire students, staff, and guests by creating flavorful, high-quality, nutritious, made-from-scratch meals to fuel and energize growing minds each day. Aladdin is committed to making a positive difference in people's lives by creating unique culinary experiences for each local community that we serve.
About Elior North America
Elior North America enhances people's lives through culinary innovation and a commitment to providing exemplary service. The family of companies, with more than 20,000 team members, provides foodservice solutions and catering to more than 1,500 client accounts in five industry segments across the continental United States. Elior North America is among the top five contract foodservice companies in the United States. The company is part of the European contract catering firm Elior Group. Learn more at www.elior-na.com.
About Bowie State University
Bowie State University (BSU) is an important higher education access portal for qualified persons from diverse academic and socioeconomic backgrounds, seeking a high-quality and affordable public comprehensive university. The university places special emphasis on the science, technology, cybersecurity, teacher education, business, and nursing disciplines within the context of a liberal arts education. For more information about BSU, visit bowiestate.edu.