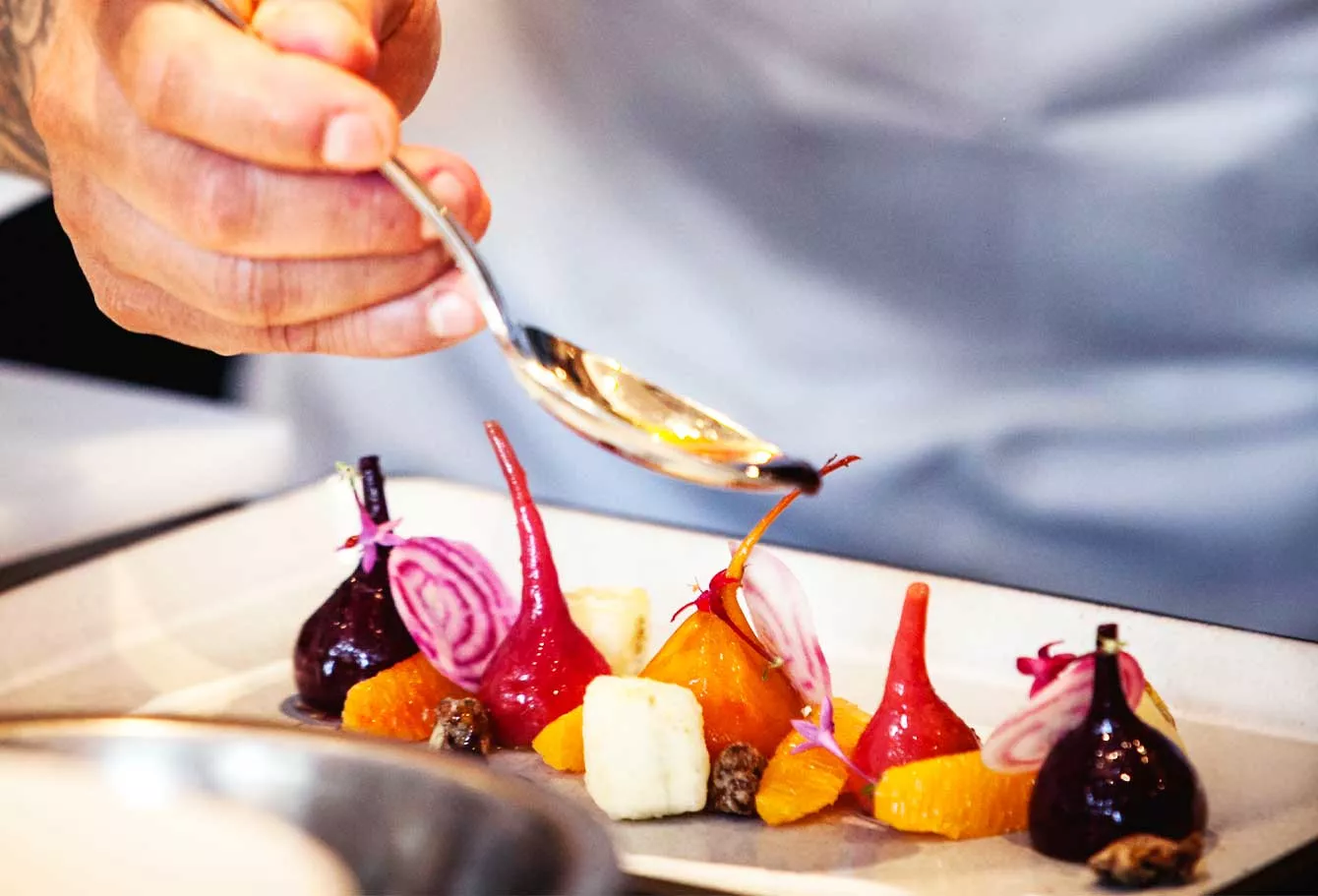 Chef Spotlight: Mario Reyes of TRIO Community Meals
Paul Basciano, VP of Culinary Development at Elior North America, interviewed Chef Mario Reyes from TRIO Community Meals about his work at TRIO, his background, his favorite ingredient combination, and more.
Tell us a little bit about your role and what your day-to-day looks like?
As Corporate Executive Chef for TRIO Community Meals, I lead and energize the culinary innovation process through menu and recipe development to bring our seniors the best variety and quality through nutritious meals. My role is to support our central kitchens throughout the country, working along with our team of Dieticians, Regional Directors and Foodservice Directors. What I enjoy most about my role is being part of the TRIO team providing much-needed services to our seniors and vulnerable populations.
Given recent changes in the industry, where do you see the business going, and what innovations do you find to be prevalent for the future?
The demand for home-delivered meals has increased, and our TRIO business will continue to be strong because of our customer-focused approach. When COVID hit, our team reacted and adapted to continue serving our seniors. Due to congregate sites being closed, we had to come up with an avenue to reach seniors at home. I started virtual cooking classes, together with the Director of Marketing and a Dietician. These events have become highly successful and as the industry finds a new normal, I think that culinary virtual events will continue to be necessary throughout this year.
Tell us about your background, where it all started, where you've been, and what keeps you motivated every day
Growing up in Toronto, Canada I began my culinary career at an early age. My path took me to Paris, France where I worked in a few restaurants, as I wanted to learn French classical cuisine. Returning to Toronto, I enrolled in culinary school. I did my apprenticeship at the Four Seasons Hotel and continued working in the hotel industry in Toronto, New York, and Dallas. I then became the Corporate Executive Chef for Nestle North America for 24 years before joining Elior 2-and-a-half years ago. I have had the privilege of traveling throughout the world and have competed and led teams to the Culinary Olympics (Germany), Luxembourg Culinary World Cup, and Hotelympia (London). As a Certified Fellow of the World Master Chef Society, I am currently the Team Manager for the USA World Master Chef Society team that will compete at the FHA Culinary Challenge in Singapore 2022.

My motivation comes from my passion for cooking, the love of people, and sharing and learning with others.
Tell us your favorite monumental ingredient combination
I have two examples that come to mind. First, once in a culinary competition in Ireland, they gave us beets as part of a mystery basket. I came up with a delicious beet and basil sorbet. It was refreshing, colorful, and the flavors complemented each other. Second, I like to use pickle juice along with coca cola as marinade ingredients together. Many people just throw their pickle juice away!
What three ingredients are must-haves in your kitchen?
I always have these four items in my kitchen: freshly squeezed lime juice, fresh garlic, fresh herbs, and a good quality olive oil.
What was the one defining moment in the kitchen when you knew you were meant to be a chef?
I wanted to be a chef early on since I was a little kid. I started washing dishes at a young age at a seafood restaurant (The Old Fish Market in Toronto) as a necessity to help support my family. The chef moved me to different stations throughout the kitchen, and from then on, I knew I wanted to go to culinary school and become a certified chef. So, what started as a necessity became my passion.
What is your last meal, and who's the chef? Who's at the table with you, and what's the meal?
My last meal experience would start in my home kitchen cooking alongside my daughter and son (who are great cooks). Since my daughter works in Toronto, and my son is in grad school in Chicago, I do not see them often and really enjoying cooking together with them whenever I get a chance. We would join my wife at the table and the four of us would eat a freshly prepared paella, my last meal. A favorite quote of mine is: "family is the most important ingredient in the recipe of life."
Get to know our chefs, and check back for more Chef Spotlight interviews with Chef Paul Basciano!