Elior North America Celebrates 10 Year Anniversary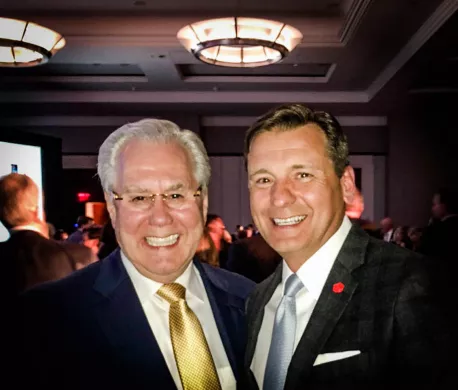 CHARLOTTE, N.C. — Elior North America, the nation's fifth largest foodservice company, proudly celebrates their 10th anniversary. Founded in 2008 as TrustHouse Services Group, Elior North America has grown 15 times since its inception to now include more than 18,000 team members committed to providing exemplary service to over 1,500 client accounts in communities across the country.
Founder and Chairman, Mike Bailey launched the company with the acquisition of three regional foodservice companies Aladdin, AmeriServe and FitzVogt. He was committed to building a food-only management company focused on providing great food and service to clients through a local footprint. As the company continued to evolve, Mike selected Brian Poplin as the company's President and CEO in 2015 to transform and position Elior North America among the top foodservice management companies in the United States. Since 2015, Elior has achieved a 49 percent average annual growth rate as a result of the team's leadership and focus on building high-performance business units.
"We remain focused on the mission that was set in 2008 to create a family of companies committed to providing great food and amazing service," says Mike Bailey. "We will continue to acquire great companies that have a strong foundation and corporate culture that mirrors our organization. We want to help facilitate the next generation of growth in all Elior North America companies with dynamic culinary programs that meet each client's needs."
Since 2008, Elior has welcomed teams from 19 companies focused solely on foodservice management. "From our people to our client partnerships, we have a common thread across our business that has helped us become the company we are today," Brian Poplin shares. Elior's commitment to providing unique culinary experiences to the people it serves has remained steadfast during the company's history. The organization is agile in managing client relationships, focused on providing amazing food with authentic recipes and honest preparation and committed to delivering genuine service to its guests.
Bailey and Poplin have built a strong partnership reflected in their working style and mutual respect for one another. This relationship has enabled the team to accelerate growth and strengthen the organization's corporate culture while building client partnerships through a family of companies aligned to a single mission. "As a food only, people-focused company, Elior is dedicated to the work it does. Food is personal, and it's all we do," says Brian Poplin.
The company's brand positioning as being Small Enough to Care and Big Enough to Make a Difference is resonating with team members, partners, and the marketplace while also driving results.
Contacts
Elior North America
Suzanne Manella, 630-440-9817
Suzanne.Manella@elior-na.com