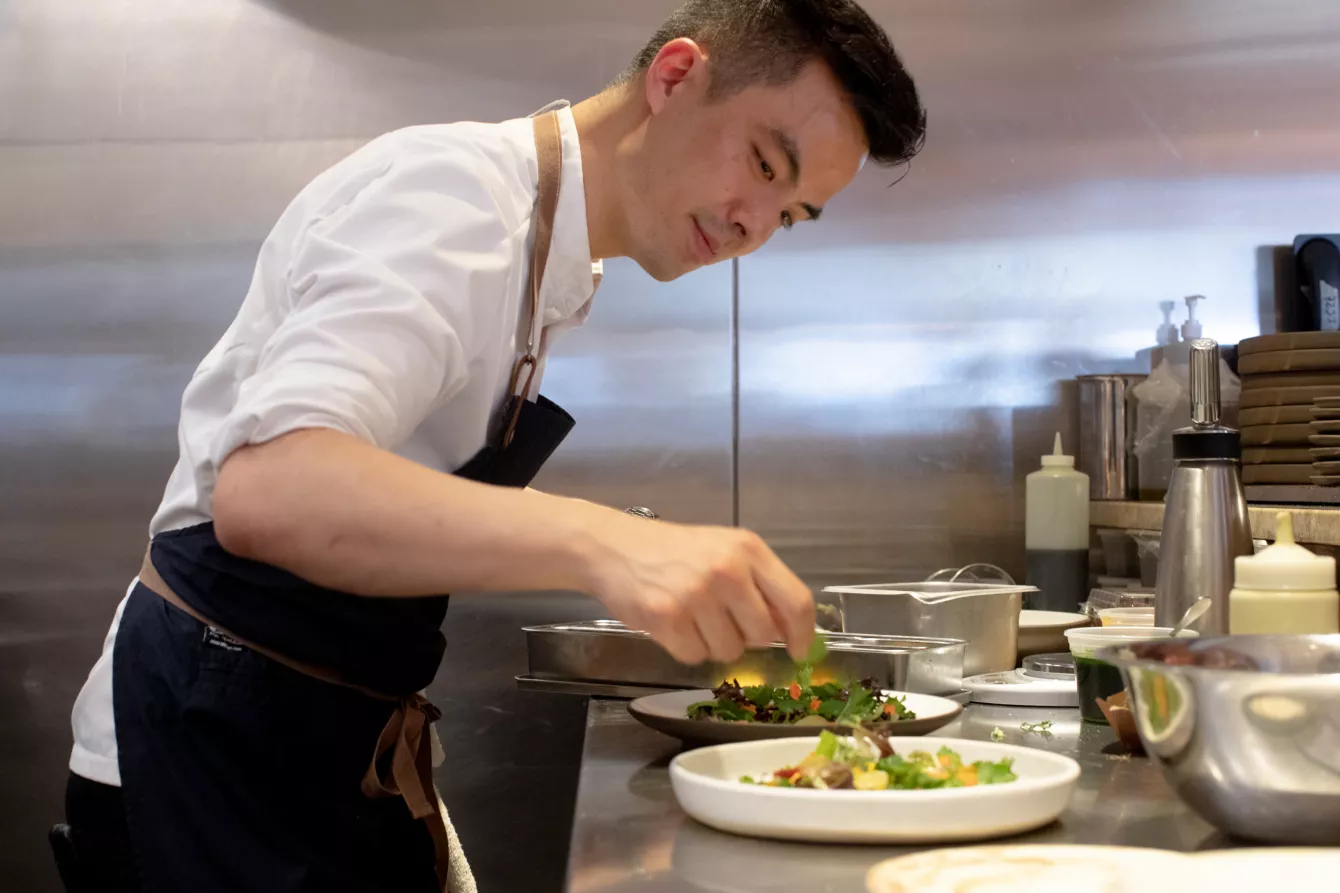 Hoon Rhee, chef of the Philadelphia Museum of Art, prepares meals based on the exhibits
Source: "Hoon Rhee, chef of the Philadelphia Museum of Art, prepares meals based on the exhibits"
Restaurant Hospitality, February 17, 2023, https://www.restaurant-hospitality.com/chefs/hoon-rhee-chef-philadelphia-museum-art-prepares-meals-based-exhibits
Hoon Rhee is executive chef of the Philadelphia Museum of Art, operated by the Constellation Culinary Group. His job includes running the back-of-the-house of Stir Restaurant, the Café, The Espresso Bar, and the Balcony bar, as well as catering and private events.
A first-generation native of Philadelphia to parents who immigrated from South Korea, Rhee had spent most of his career working in fine-dining. He studied at The Culinary Institute of America and then externed at Per Se in New York City. He stayed in the city, building up his résumé with at Daniel, The Modern, Bar Masa and other fine-dining restaurants before going home and working at The Walnut Café, Jean-Georges at the Four Seasons Hotel, and Lacroix Restaurant at The Rittenhouse.
"And then, like most people in the pandemic, I think I was just looking for a lifestyle change," said Rhee, who has two sons, aged 4 and a year and a half.
Though he wasn't laid off during lockdown, Rhee did have downtime.
"To be able to spend time with my kids for once was huge," he said.
So he decided to go for a more dad-friendly job with Constellation.
"I did a tasting for them, and here I am 10 months later."
Rhee recently discussed his career change and his plans for the future.
You're operating four different venues. How is that easier than being a chef at a fine-dining restaurant?
We operate during museum hours, and that was the biggest key for me. At least during the slow season I'm in by 8 and out around 5.
When I learned that, I was like, 'this is amazing.'
I get to have dinner with my kids, sometimes I can pick them up [from daycare].
Obviously, during the busy season, we do have events at night, but we have a commissary kitchen that can produce [the food] for a lot of these events. So I don't always have to be there.
I like to be there, but I remember the other day my kid wanted me to take him to a basketball game, I said 'sure,' and I was able to keep that promise. That's been a huge blessing that the company has provided for me.
You went to the University of Pennsylvania, where they don't have a culinary program. How did you get into cooking?
My parents have been real tiger parents — just pushing me [to succeed]. But once I got to college and there was no parental supervision, I was lost in the wind, if you will. The first year was so bad I almost failed out. I just didn't know what to do with myself because I had been directed my whole life.
My friends had been doing study groups, and I didn't really want to study, so I thought, "let me get you guys some snacks."
I had some baking experience because my sister liked to bake a lot and she made me do all the dirty work.
When did you realize you wanted to be a chef?
I still remember the exact moment: It was summer of my freshman year at the Penn bookstore, I was looking at the cookbook section and I ran into this white cookbook and it turned out to be The French Laundry Cookbook.
Growing up as a child of immigrants, food was what my parents were doing working at Dunkin' Donuts to make ends meet. The idea that you could put a lot of thought and creativity into food was something I hadn't realized, but reading [The French Laundry chef and owner Thomas Keller's] words and seeing how much he had thought everything through, the intense focus that you needed really appealed to me. So I took a food psychology course, and through various connections I was able to stage at one of Marc Vetri's restaurants. I didn't know at the time, but it was a seminal moment, because Mike Solomonov was there, and Joey Baldino [both now very successful restaurateurs in their own right] was there, and I was just some new kid being like, 'I don't know what I'm doing, but can I be in this kitchen?'
I was there for two months. I had my first oyster there. Mike Solomonov opened it for me because he was teaching me how to shuck them. From there, there was no going back.
How do your parents feel about your career path?
In Korea especially, the perception of chefs has changed in the last 15 years. Chefs are now regularly on TV over there, they're in the newspapers, and so they've come around.
I think once I worked for Jean-George at The Four Seasons, they were like, 'Oh, we know The Four Seasons.'
They're very proud of me now.
The Museum recently had an exhibit, Matisse in the 1930s. Did you prepare a special menu for that?
The museum has at least two major exhibitions, sometimes three or four, throughout the year, and we are tasked to create a menu inspired by it. They give me previews of each exhibit just to get some ideas.
Much of the exhibit was how Matisse was in a creative rut, came to Philadelphia, and was commissioned by the Barnes Foundation to create a mural on their archways, which inspired him.
So originally I looked at the food history in Philadelphia in the 1930s, which was a little difficult to get inspired by: Philadelphia in the 1930s was not a culinary Mecca.
And then I realized that Matisse was going back and forth from Nice, France, in the French Riviera, so that's where I took my inspiration.
The first course was a chickpea panisse (similar to fries), but I really made it melt in your mouth, added some cream and made it custardy almost.
Then I made a sauce out of golden milk [made with turmeric] and added green coriander, capers, and pomegranate to give it a more punchy flavor.
Then I did a bouillabaisse, but in Philadelphia in the winter you want something a little heavier, so I did a creamy version with monkfish, shrimp, squid, clams, potatoes, and onions.
And for dessert I made a chocolate mousse cake, left, based off of Alain Ducasse's Louis XV dessert, with different layers — hazelnut feuilletine, almond cake, chocolate mousse — and covered it in a mirror glaze with blood orange cremeux on top.
What's the next exhibit?
Judith Joy Ross, who is a photographer. She does a lot of stuff based on famine and war, so this one's a little bit harder, but apparently she loves French food and is from Pennsylvania, so we'll see what we come up with.
I know later this year there's going to be a huge Korean exhibit with between 12 and 24 Korean and Korean-American artists. That one I'm very excited for, being Korean and trying to get my own take and what it means to be a Korean American nowadays. That will be in the fall and winter of this year.
Have you cooked much Korean food?
I haven't. I've tried doing my own kimchi, and my wife is Taiwanese, so we cook everything. But it's the deeper level that I've never done, things my mother would have grown up with.