TrustHouse Services Group Acquires Starr Catering Group
Expanded Portfolio of High-End Dining Options Will Enhance Customer's Palates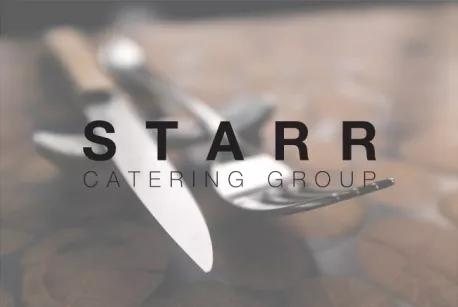 (Charlotte, NC – August 4, 2015)
TrustHouse Services Group has acquired Philadelphia‐based restaurateur Stephen Starr's acclaimed Starr Restaurants Catering Group (SRCG), it was announced today by Michael J. Bailey, TrustHouse Chairman and co‐founder. SRGC will continue to operate under the Starr Catering banner led by Simon Powles, President and CEO, and Guy Kellner, COO, both of whom will report to Brian Poplin, President & CEO, TrustHouse Services Group.
The Starr Restaurants Catering Group, which was named one of BizBash's Innovators of the Year in 2014, currently provides custom catering and unique visitor dining experiences at cultural institutions, public attractions, and premier business locations including the New York Historical Society, the Philadelphia Museum of Art, and the Perez Art Museum Miami. As part of this acquisition, TrustHouse has licensed numerous trademark menu items and recipes from Starr Restaurants, assuring that the first class culinary standards will remain intact.
"This is an exciting time for us," said Bailey. "The Starr Restaurants Catering Group has a well renowned reputation for providing innovative food and exceptional hospitality in corporate dining and in large scale events and galas. The acquisition provides excellent potential for both SRCG and TrustHouse, infusing each with new resources and expanding opportunities for our employees."
"Both of us view our clients the same way," said Powles, who co‐founded SRCG with James Beard nominated restaurateur Stephen Starr in 2008, and has led the operations and growth of the company. "We both believe our client partners and guests are at the core of everything we do. For our current clients, there will be no change in the high level quality and entrepreneurial approach we bring to each of our unique relationships, and at the same time, we are looking forward to working with the TrustHouse companies to expand premium dining and service offerings. "
Under the TrustHouse umbrella, the company provides culinary management in healthcare, government and business services, and educational facilities across the United States.
"A company of SRCG's caliber will have a significant impact on our entire company," said Poplin. "We are poised to lead the market in culinary innovation and this acquisition is another step along that path. Every day, we listen to our clients and hear the ever‐growing desire for ongoing culinary creativity and enhanced wellness offerings. We welcome the Starr Catering team and look forward to building on their success and forging an even brighter future."
Contacts
Elior North America
Suzanne Manella, 630-440-9817
Suzanne.Manella@elior-na.com